The roof on the cabin fell in some years ago
But the big logs in the walls are there
Chimney rocks repurposed for what I do not know
Windows can not reflect what happened there.
Sadly, this is how it is with so much history
No markers to help the curious who pass by
The walls confirm we have a mystery
Dying to know the who, the when, the how and why...


© by Mike Moutoux.
Used here with the author's permission.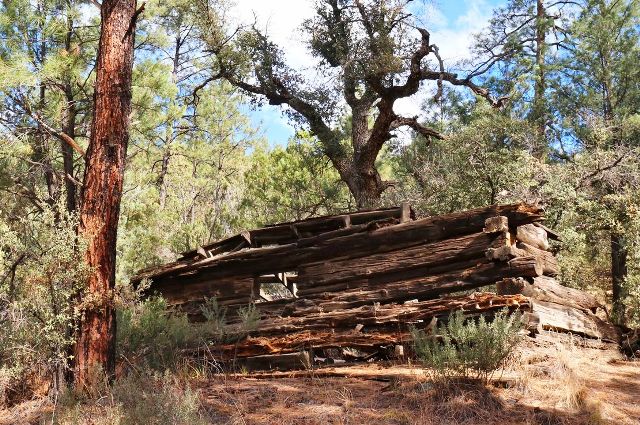 Photo credit: Mike Moutoux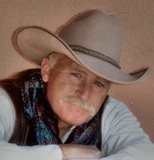 Mike Moutoux (pronounced "moo-toe") is a cowboy-singer-songwriter-cowboy poet from Silver City, New Mexico. Known as "New Mexico's Enchanting Cowboy," he specializes in turning ranch work into cowboy songs and cowboy poetry that give listeners a rare look into the life of a working cowboy. His songs and poems are always filled with wonderful images---perhaps influenced by his work as a photographer. But it is his work as a cowboy that lends an authenticity to his work most audiences quickly realize and appreciate. Learn more about Mike at https://mikemoutoux.com/.
Janet Leahy:
A poem of questions, of mystery, well done. Thanks Mike
Posted 12/15/2020 07:38 PM
Anastasia:
The poem and the photo are perfectly paired! I'm curious about things like this, and make up stories to entertain myself about what happened.
Posted 12/15/2020 02:56 PM
Lori Levy:
Especially like the last line and how the photo goes so well with the poem.
Posted 12/13/2020 10:07 PM
Corgicottage:
I understand, Mike. My grandparent's house, a modest 3 floor in New Britain, Connecticut, was torched and burned down. The lot is still there, green grass as it was at the turn of the century before the house was built. I drive to it and sit in the car and sometimes weep. I remember the love and the joy and the history of that house, that home. I miss it, but really it lives in my heart. Thanks for your beautiful poem.
Posted 12/13/2020 02:12 PM
TheSilverOne:
I grew up in a home on the plat in 1847, now being left to ruin. This poem is a reminder.
Posted 12/13/2020 12:20 PM
cork:
The "where" is deep in the woods. Great photo.
Posted 12/13/2020 11:10 AM
mail@schoolbusmart.com:
Nice thoughtful piece that captures a common curiosity for places like these.
Posted 12/13/2020 09:57 AM
paradea:
One of my great sorrows is to see any old homeplace gone to ruin, and then, even worse, to see it be torn down.This poem brought up my feelings!
Posted 12/13/2020 09:29 AM
wayne.goodling@yahoo.com:
Initially reading the poem, I saw it as some good ideas to think about. Then......I saw the picture of the cabin. Having seen the cabin, the poem now took my breath away. Thanks.
Posted 12/13/2020 08:47 AM
Jccjccac@aol.com:
I want to know too.
Posted 12/13/2020 07:23 AM