Such beauty lives in a December garden
Frozen raindrops cling like stars to dusky leaves
Branches nod in the wind, agreeing
with the whispers of fallís final breath
A solitary sparrow, unimpeded by autumnís
screaming jays, makes his monkish mealó
chirps a benediction under the steeple of sky
sheltering this gray velvet world
waiting for
sleep

†
© by Arlene Gay Levine.
Used with the authorís permission.
†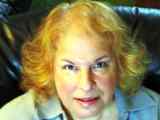 Arlene Gay Levine is the author of 39 Ways to Open Your Heart: An Illuminated Meditation (Conari Press) and Movie Life (Finishing Line Press). Her poetry and prose have appeared in The New York Times, an off-Broadway show, the radio, and more than 30 anthologies and journals. Arlene has served as a judge for Illinois and Virginia state poetry society contests and she is the creator/facilitator of Logos Therapy™, a transformational writing process. Arlene lives with her husband in New York City, where she tends a garden of words, roses and herbs. Learn more about her at http://www.arlenegaylevine.com.
Wilda Morris:
Lovely!
Posted 12/17/2020 03:33 PM
Arlene Gay Levine:
My thanks for your thoughtful and kind comments!
Posted 12/15/2020 08:59 PM
Janet Leahy:
Wonderful language enhances a beautiful poem.
Posted 12/15/2020 07:43 PM
Lori Levy:
Beautiful December poem.
Posted 12/15/2020 05:21 PM
Anastasia:
The "solitary sparrow" as a monk is magical!
Posted 12/15/2020 02:52 PM
Corgicottage:
There is beauty in winter, and this poem expresses it wonderfully. Thank you.
Posted 12/15/2020 12:44 PM
michael escoubas:
Finding beauty where few others could . . . the work of excellent poets. Thank you, Arlene.
Posted 12/15/2020 11:46 AM
Ronaccount:
Thank you. Vivid images and great music in this short piece.
Posted 12/15/2020 09:06 AM
Larry Schug:
This poem--just right.
Posted 12/15/2020 07:41 AM
Sharon Waller Knutson:
Loved how this poet found beauty in drabness like frozen raindrops, steeple of sky and gray velvet world.
Posted 12/15/2020 07:24 AM