All through the short gray day
and long into the solitary night
the snow poured

from itself to itself
cascading through that wide acreage
between heaven and earth singing

         Hush
         Slow Down
         Stop.

When morning dawned to a sparkling infinity
of curves and curls of hip-high snow,
I snowshoed, almost floating, into the woods

the silence there
so profound
it became a third presence:

         the community of old growth hemlocks and white pines
         that extravagance of snow
         and this quiet so complete

the still place in me
recognized it
and bowed.


This poem first appeared in Roads Taken: Contemporary Vermont Poetry (Green Writers Press, 2017).
Used here with permission.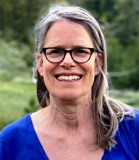 Julie Cadwallader Staub grew up with five sisters beside one of Minnesota's small lakes, where her favorite words to hear were, "You girls go outside and play." Julie now lives and writes near Burlington, Vermont. She is the author of two collections and her poems have been published in a variety of journals and anthologies and have been featured on The Writer's Almanac. Learn more about Julie at www.juliecspoetry.com.
Stephen Anderson:
Too often we forget that we are really one with Nature. Very nice poem, Julie!
Posted 01/18/2021 02:32 PM
KinVT:
Julie, That was lovely. Yesterday, (here in northern VT 😊) it was pouring snow most of the day. Thank you for the peaceful & calming images, much appreciated.
Posted 01/17/2021 09:10 PM
Lori Levy:
Beautiful poem. I identify with this, having grown up in Vermont.
Posted 01/17/2021 04:53 PM
Anastasia:
"that extravagance of snow"—a perfect description! Thank you for this beautiful moment of stillness and peace.
Posted 01/17/2021 03:31 PM
joecot:
Simply lovely and still. Like the snow itself.
Posted 01/17/2021 01:23 PM
Jean Colonomos-1:
What an homage to stillness. Thank you.
Posted 01/17/2021 10:25 AM
KevinArnold:
Perfect title, love the word community bringing it home.
Posted 01/17/2021 09:39 AM
TheSilverOne:
Beautiful, peaceful poem; like a rare treasure. ~. D.Beio
Posted 01/17/2021 09:33 AM
Darrell Arnold:
Lovely poem. Clever. "From itself to itself." Brilliant really.
Posted 01/17/2021 09:13 AM
cork:
I cannot wait until the snow falls here.
Posted 01/17/2021 09:02 AM
mjorlock:
Lovely and pastoral, my idea of what Vermont is like in winter.
Posted 01/17/2021 08:41 AM