Sun's high in August, we picnic when it gets hot.
Sidewalks stuffed with strollers, squalling kids, we celebrate hot.

Form a snaking line. Build towers of hot dogs, chili, slaw.
Workers sweat in merlot smocks, heft trays steaming hot.

Mr. Green-Haired Clown mimes to toddlers; wags goofy shoes.
While waltzing with bubbles, his whiteface melts. It's that hot.

The peace group and food co-op share shade, stack leaflets.
Friends in tie-dyed tees crowd in. Out there's too hot.

Bluegrass beats jazz the crowd. Lonesome lyrics picked fast.
The combo rips through Pretty Polly, cloggers stop, feet hot.

A serenade for Margaret's last day of summer, next, classes start.
Dry leaves rustle, the sun sets sooner. It won't stay hot.


© by Margaret Coombs.
Used with the author's permission.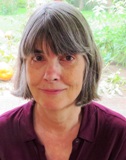 Margaret Coombs, formerly known as Peggy Turnbull, is a retired academic librarian who lives in the city of her birth, Manitowoc, Wisconsin. After four decades away, she and her husband moved back to live near four generations of her family. Margaret recently changed her writing name to her birth name as a way to connect with the literary dreams that she had as a child. Her chapbook, The Joy of Their Holiness, was published in 2020 by Kelsay Press. Learn more about Margaret here.
Lori Levy:
Definitely feel hot reading this poem.
Posted 08/11/2021 06:29 PM
Sharon Waller Knutson:
I love this charming picturesque poem. Loved the repetition of the word hot.
Posted 08/11/2021 12:44 PM
IngridBruck:
I loved your ghazal about the friendly country social. So hot, so vivid, I can hear the music.
Posted 08/11/2021 11:11 AM
Wilda Morris:
Excellent form for this hot-weather poem. And wonderful details!
Posted 08/11/2021 08:43 AM
Rob:
Great details and fun, purposeful repetition of "hot"--like not matter what someone there is doing, the heat is always weighing on them!
Posted 08/11/2021 06:58 AM