Forget for a moment,
how that little golden-haired girl
rudely invaded someone else's home.
 
Ponder instead what she rejected.
 
Too hot, too cold, too hard, too soft.
 
She chose "just right,"
the sweet space in between.
 
Like scientists searching
galaxies for a planet
where water, essential to life,
neither freezes nor boils.
 
Or me, happiest when my emotions
step off the seesaw to stand
on even ground.


© by Jacqueline Jules.
Used here with the author's permission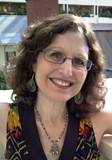 Jacqueline Jules is a former librarian who found herself intrigued by almost every book she put on the shelf. As a reader and as a writer, she doesn't restrict herself to one genre. A resident of Virginia, Jacqueline is the author of 40 books for young readers on a wide variety of topics. Her poetry has appeared in more than 100 publications, including three chapbooks: Field Trip to the Museum (Finishing Line Press), Stronger Than Cleopatra (ELJ Publications), and the award-winning Itzhak Perlman's Broken String (Evening Street Press). Learn more about Jacqueline at www.jacquelinejules.com.
Adriana:
100% charming
Posted 10/19/2021 12:01 PM
CamilleBalla:
Great lens of polarities; hen to reflection of rhe sweet spot Thank you!
Posted 10/17/2021 12:35 PM
wordartdjc:
Truly a lovely poem that suits our worried minds during this period in our world. It somehow gives all a calm persuasion. Thank you.
Posted 10/17/2021 12:06 PM
Lori Levy:
Just right!
Posted 10/17/2021 11:54 AM
cork:
I need to refresh my knowledge of Goldilocks.
Posted 10/17/2021 11:07 AM
Janet Leahy:
Love the last stanza, hope we all can do that with grace. Thanks Jacqueline
Posted 10/17/2021 10:56 AM
RonPoems:
A childrens story to serious science to personal reflection in a short poem. Love it.
Posted 10/17/2021 10:12 AM
KevinArnold:
The ambiguity of this poem really challenges the reader. Interesting poem.
Posted 10/17/2021 09:04 AM