Walking in winter I love
the calmness, the trickle of
water, the snow shuffling
from the limbs of a tree
as the finch, robin, red
cardinal awake the lungs
of the wood with song, and
the woodpecker rap tap tap
taps like a drum, echoes.


This poem first appeared in Eye on Life Magazine (March 2015).
Used here with permission.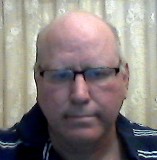 Danny P. Barbare's award-winning work has been published in numerous online and print journals. Author of three books, he attended Greenville Technical College. Danny lives with his wife, family, and sweet dog Miley in Greenville, South Carolina, where he draws inspiration from the Blue Ridge mountains and from the lowlands of Charleston.



Anastasia:
A wonderful word-picture! I could see and hear all of the birds!
Posted 02/23/2022 12:05 PM
paradea:
I agree with Larry Schug. Love that line!!
Posted 02/23/2022 12:02 PM
Adriana:
I love the lines themselves, how each one leads to the next, how the entire poem seems one poetic sentence - I love placing the third "tap" in the last line to give emphasis - beautiful images, enviable craft...
Posted 02/23/2022 11:44 AM
Janet Leahy:
Economy of words in this beautiful scene.
Posted 02/23/2022 11:29 AM
Lori Levy:
Beautiful scene.
Posted 02/23/2022 11:17 AM
KevinArnold:
Wonderful last word still echoes.
Posted 02/23/2022 10:20 AM
Darrell Arnold:
When I saw the title of today's poem, I laughed outloud. It snowed last night, and I took the dogs out this morning for our pre-dawn walk, and I've been composing a poem in my head all the way back home and have jotted down notes on my computer about the beauty of it all beneath a half moon, and I did all of this before I do what I normally do, which is read Jayne's daily offering, and there is Danny's poem. Timing is everything. I'm going to be more verbose than is Mr. Barbare, though what he witnessed was beautifully audible, while my experience was beautifully silent.
Posted 02/23/2022 08:36 AM
Michael:
"Largeness" capture in "brevity." Nicely done, Danny.
Posted 02/23/2022 08:21 AM
Larry Schug:
"awake the lungs of the wood with song" That's poetry!
Posted 02/23/2022 08:05 AM
Sharon Waller Knutson:
I love this sparse photographic poem. I can see and hear water trickling, snow shuffling, finch, robin and cardinal singing and woodpecker rapping.
Posted 02/23/2022 06:16 AM