I'd like to be a dentist with a plate upon the door
And a little bubbling fountain in the middle of the floor;
With lots of tiny bottles all arranged in coloured rows
And a page-boy with a line of silver buttons down his clothes.

I'd love to polish up the things and put them every day
Inside the darling chests of drawers all tidily away;
And every Sunday afternoon when nobody was there
I should go riding up and down upon the velvet chair.


From The Fairy Queen (Methuen & Co., October 1919).
This poem is in the public domain.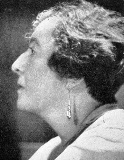 Rose Amy Fyleman (1877–1957) was born in Nottingham, England. She wrote often as a young child; one of her pieces was published in a local paper when she was only nine years old. Rose pursued other careers as an adult, however—including teaching, translating, singing, and editing—and didn't attempt to publish anything else until she was 40. The tremendous response to that published poem led her to write and publish multiple stories, poems, and plays for children over the next four decades. In the end, Rose was considered one of the most successful children's writers of her generation.
Jancan:
What a delightful poem!
Posted 02/25/2022 12:04 AM
Anastasia:
I imagine today's dental assistants might be happy to have "a line of silver buttons" on their scrubs! This is certainly a different experienceI'd be happier to go to the dentist if it were like this!
Posted 02/24/2022 12:47 PM
MLove:
I love this! Reminds me of my mother's story from about this same timeframe. She did NOT like the dentist, who had an office upstairs. She jumped out of the chair to run out of the office, but he stood spreadeagle at the top of the stairs and blocked her exit!
Posted 02/24/2022 10:33 AM
paradea:
Sweet!!!
Posted 02/24/2022 10:13 AM
Larry Schug:
p.s. from Larry. My dad was the barber in my comment. I neglected to state that.
Posted 02/24/2022 08:11 AM
Darrell Arnold:
I echo Mr. Schug in that the poem reminds me of the barber's chair I sat on many times in my youth. As for the dentist, my memory goes, not to the chair, but to the cleaning jet-spray of water and the spit sink. Ugh.
Posted 02/24/2022 07:56 AM
Larry Schug:
Although I certainly did not want to be a barber, I loved raising and lowering myself time after time in his barber chair which is now restored and resides in a place of honor in my brother's house. We all still like operating the handle that raises and lowers the chair. This poem took me back to my youth.
Posted 02/24/2022 06:11 AM
Sharon Waller Knutson:
This is a delightful musical poem by a poetess from an era where there were few female poets. My favorite line is: "And every Sunday afternoon when nobody was there I should go riding up and down upon the velvet chair."
Posted 02/24/2022 06:02 AM