Whenever the moon and stars are set,
Whenever the wind is high,
All night long in the dark and wet,
A man goes riding by.
Late in the night when the fires are out,
Why does he gallop and gallop about?

Whenever the trees are crying aloud,
And ships are tossed at sea,
By, on the highway, low and loud,
By at the gallop goes he.
By at the gallop he goes, and then
By he comes back at the gallop again.


This poem is in the public domain.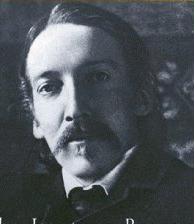 Scottish writer Robert Louis Stevenson (1850-1894) is, for many of us, the first poet to whom we were introduced, through his wonderful book, A Child's Garden of Verses. Though he came from a family of engineers and it was expected he would follow suit, Robert wrote stories even as a child; no one was really surprised when, three years into his engineering studies at the University of Edinburgh, he abandoned them to study writing. Always an avid traveller, despite lifelong poor health, Robert spent much of his life looking for a place to live that offered some respite from his illnesses. A prolific writer of poetry, fiction (Kidnapped, Treasure Island, and The Strange Case of Dr. Jekyll and Mr. Hide are his best known), travelogues, and political essays, he is properly revered today as a major literary figure, although in the early twentieth century, he was temporarily dismissed and disdained as "a children's author." Ultimately, Robert ending up living in Samoa, happy and productive until a stroke abruptly ended his life at the age of 44. 
Janet Leahy:
How lucky you are to have a grandson memorize this poem, what a treat! I too had a Child's Garden of Verses as a first book of poetry, my favorite was and still is "The Swing."
Posted 02/25/2022 01:48 PM
Anastasia:
Stevenson was quite the writer, and his children's verse is the perfect introduction to poetry!
Posted 02/25/2022 01:30 PM
joecot:
The essence of poetry is to see the world afresh, as through the eyes of a child.
Posted 02/25/2022 11:25 AM
paradea:
So many of his poems, I still know by heart from childhood, The Swing, The Cow, etc. Now I'll be reciting them all day!! My favorite poem from when I was little, though, is Fairies by Rose Fyleman. I was the 'queen'!! Thanks, Jayne!!
Posted 02/25/2022 10:25 AM
KevinArnold:
Great poem, better backstory.
Posted 02/25/2022 09:34 AM
Michael:
Totally delightful, thank you Jayne and RLS!
Posted 02/25/2022 09:11 AM
Darrell Arnold:
I would really like to know "why does he gallop and gallop about?" A delicious mystery from the age of horse travel. I feel as if I have been deprived. While well aware of Stevenson as an author, I have, up to this very day, been unaware of Stevenson as a poet. This wonderfully crafted poem is my first step on a new adventure --tracking down more Stevenson poetry. I love it.
Posted 02/25/2022 08:56 AM