High-wire Baryshnikov,
you pirouette between trees,
dancing on air, creating
in our backyard
new alphabets of space,
all flourish and curlicue,
calligraphies of fur.


Š by Bill Abbott.
Used here with the author's permission.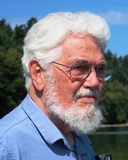 Christopher Levenson is a poet, editor, and translator. Originally from London, England, he now lives with his wife in Vancouver, British Columbia. A former professor at Carleton University in Ottawa, Christopher has traveled widely and lived in several countries. He enjoys music, especially classical, but also Dixieland jazz, folk, and world music. Christopher's award-winning work is widely published and he is the author of twelve collections of poetry; his most recent is A tattered coat upon a stick (Quattro Books, Toronto, 2017).


Jo:
Loved your word choice, and your playful description of squirrels.
Posted 02/27/2022 12:11 AM
Anastasia:
Squirrels are fascinating to watch, and it looks like it's fun to be oneespecially as a "High-wire Baryshnikov". Thank you, Christopher!
Posted 02/26/2022 05:47 PM
peggy.turnbull:
"new alphabets of space" Our squirrels do that, but I never saw it this way before.
Posted 02/26/2022 02:14 PM
Lori Levy:
Perfect portrayal of squirrels.
Posted 02/26/2022 01:49 PM
Janet Leahy:
Masterful to conclude this poem with "calligraphies of fur". I've watched them "dancing on air" and last fall they watched me planting tulip bulbs, by morning the bulbs had all been dug out, a few tulips bloomed in spring in a scatter of places.
Posted 02/26/2022 12:00 PM
Glen Sorestad:
Impeccable word choices. Well done, Chris!
Posted 02/26/2022 11:25 AM
bobbi43sml@aol.com:
And "calligraphies of fur" has my mind absolutely spinning with images. As my youngest son would struggle to say with his dysfluency "that is ph-ph-ph phenomenal"!!!!
Posted 02/26/2022 08:29 AM
Larry Schug:
This poem shows more than our eyes are capable of seeing--"new alphabets of space".
Posted 02/26/2022 07:50 AM
Sharon Waller Knutson:
High-wire Baryshnikov. Perfect description of a squirrel. Love this sparse photographic poem.
Posted 02/26/2022 07:46 AM