From the Mahabharata

Heed how thou livest. Do no act by day
Which from the night shall drive thy peace away.
In months of sun so live that months of rain
Shall still be happy. Evermore restrain
Evil and cherish good, so shall there be
Another and a happier life for thee.


This poem is in the public domain.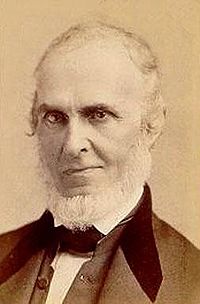 John Greenleaf Whittier (1807 - 1892) was one of the "Fireside Poets," called such because their work was popular enough to be read (ostensibly by the fire) in homes all over America. And Whittier was one of those rare poets who actually made a rather comfortable living from the proceeds of his work. Born into a Massachusetts farm family, Whittier was introduced to poetry by one of his school teachers. An avid reader and writer early on, Whittier spent much of his working life as an editor, though he had political aspirations as well. He was a staunch abolitionist, and produced two collections of anti-slavery poems, along with an anti-slavery pamphlet that managed to incur the wrath of both sides and effectively ended any hopes Whittier had of a political career. Critical opinion on the value of Whittier's poetry is mixed. Some dismiss it as overly emotional, while others believe the heartfelt simplicity is precisely its appeal.
Tracers645:
The wording makes the reader slow down and thoughtfully think about the meaning. Good poem! Thanks!
Posted 02/27/2022 05:35 PM
paradea:
I also agree, Larry Schugg. To each his own in interpretation of a poem. It's always interesting.
Posted 02/27/2022 02:49 PM
paradea:
I agree with Darrell Arnold!! Nice poem
Posted 02/27/2022 02:47 PM
CamilleBalla:
Jayne, I appreciate that every now and then you introduce us (at least me) to poets of bygone dayspoets whose names Ive heard of but havent learned about. I like to listen for their message as well as to notice their rhythm and rhyme.
Posted 02/27/2022 12:27 PM
Larry Schug:
Darrell, I can only imagine the great conversation we would have about poetry. " so shall there be Another and a happier life for thee." leads me to think of the afterlife. I've always been amazed, as a poet, how two readers can interpret something differently and neither is right or wrong.
Posted 02/27/2022 12:08 PM
Darrell Arnold:
What makes you think he's a grouchy and only waiting for the next? I didn't pick up that message. I picked up wisdom and a considered sentiment. I also liked how he wrote in sentences that were broken where they must be to convey rhythm and rhyme at the ends. Nice work.
Posted 02/27/2022 10:36 AM
Larry Schug:
I do agree that one should Heed how thou livest, but I'm wondering what that grouchy-looking old goat knows about happiness and what's wrong with being happy in this world instead of waiting for the next.
Posted 02/27/2022 08:48 AM