I am mowing the lawn at your house,
sweating in the late spring sun,
breathing hard--okay, panting--
when I hear you laugh.
It is the laugh I loved best: full
and throaty; musical, with whoops--
the kind they say adds years to life,
except yours is over.

For five months I have missed you,
have wept over popcorn in the grocery aisle,
pink pumps at Penney's, hymns at church,
a blaze of azaleas in a neighbor's yard--
things you would have loved, did love.
It is in these imperceptible places, these
minor moments of my life where you used to be
and now aren't, that I miss you most.

But here is your laugh,
come back to mock my middle-aged,
out of shape self as I slump, spent,
against your Japanese maple.
Hilarious indeed that while I am about the
yardwork you adored and I abhore,
you check in with a laugh to give me
a second wind.

From She of the Rib: Women Unwrapped (CRM Books)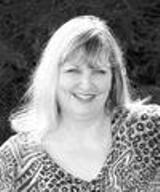 Jayne Jaudon Ferrer is the author of four books of poetry that focus on family life, including the now classic A New Mother's Prayers, which has remained in print for more than twenty years. An award-winning copywriter and freelance journalist earlier in her writing career, Ferrer is a native Floridian who now lives in Greenville, South Carolina. She speaks frequently at women's and book events and her work has appeared in numerous publications ranging from Boca Raton Magazine to Christian Parenting Today.  Learn more about her at www.jaynejaudonferrer.com.
Autographed copies can be ordered at www.magnoliatrappings.com.
Reganz:
Thanks so much Jayne for this poem and for all the daily poems. I so enjoyed the description of your mother in the introduction, especially the line "prayed more than one inappropriate paramour out of her childrens' lives."
Posted 10/24/2010 08:31 PM
wendy morton:
What a gift: you mother's laugh and these memories. Your fine poem introduces us to her, and of course, to you.
Posted 10/24/2010 12:01 PM
Ginny C.:
When it comes down to it, the things we remember about a person, the things that make him or her that inimitable self, are the things the person loved most.
Posted 10/24/2010 11:25 AM
karenpaulholmes:
I have tears too. Lovely poem, Jayne.
Posted 10/24/2010 10:28 AM
Buckner14:
I esp. love the second stanza, that catalogue of items that remind you of her. I find myself doing the same when I hear a broadcast of the World Series (my baseball-loving father), see full-blown Japanese magnolias (my mother cherished hers),see a re-run of M*A*S*H (my older son, who never missed it and adapted some of Hawkeye's mannerisms), read of canoes trailing the New River (which my husband worked to preserve in its natural state)--my heart is nigh filled to explosion with such memories.
Posted 10/24/2010 08:59 AM
Julianne Carlile:
My father died last year and I am doing the yard work he so painfully did year after year. It makes me feel closer to him also--something we now share even though he's gone.
Posted 10/24/2010 08:35 AM
dotief@comcast.net:
My mother has been gone 12 years and still I catch myself wanting to turn at the corner that leads to her house so that I might confide in her or tell her something her great-granddaughter just did. It always takes me up short when it happens. I suppose mothers are forever, even when they are gone. Great poem!
Posted 10/24/2010 08:16 AM
gigi:
It's the little things, even after 25 years. When I hear the school bus rounding the corner, I think of telling my mom on the other end of the phone, "gotta go, they're coming." You captured it all.
Posted 10/24/2010 07:12 AM
hopelongpanda:
I am sitting here with tears in my eyes. This is one I'll print out to keep.
Posted 10/24/2010 06:17 AM