I.

      Hear the sledges with the bells —
         Silver bells!
What a world of merriment their melody foretells!
    How they tinkle, tinkle, tinkle,
       In the icy air of night!
    While the stars that oversprinkle
    All the heavens, seem to twinkle
       With a crystalline delight;
      Keeping time, time, time,
      In a sort of Runic rhyme,
To the tintinnabulation that so musically wells
   From the bells, bells, bells, bells,
          Bells, bells, bells —
  From the jingling and the tinkling of the bells.


Excepted from "The Bells."
This poem is in the public domain.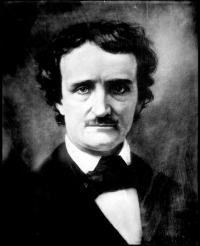 Edgar Allan Poe (1809 - 1849) was an American poet, journalist, and critic. Credited with inventing the detective story genre, he also played a significant a role in improving international copyright law and increasing wages for writers during the early 19th century. Though he published his first book at 18 and spent his entire professional life in one writing pursuit or another, Edgar didn't achieve widespread acclaim until "The Raven" was published in 1845. Even then, he continued to be plagued by the poverty and personal tragedy that makes his life read like one of his own tales. Edgar died at the age of 40, from causes still undetermined. Read more about his life here.
dotief@comcast.net:
Don't you just love it! "The tintinnabulation of the bells...." Poe is the master of meter, and this is one of his finest poems. I also love "The Raven" not only for the eerie content, but the magical measures of meter! Genius!
Posted 12/13/2010 08:34 AM