I am in the choice of pattern
and in my fantasy
of how the suit sketched in tweed
will be incarnated in velvet.

I am in the tissue pieces
laid precisely, pinned snugly
facing the right way
on the wrong side.

I am in the concentration of my tongue
and in the rhythm of my heart
as scissor blades
crunch, crunch, crunch.

I am in the synapses that pass
from instruction sheet to brain
to fingers, in spaces
filled with the conductive medium of faith.

I am on the rolling highway of stitches, even and perfect
seams, smooth and straight
then in the pin-prick that sees
something is wrong: I must rip and return.

I am in the mirror
reflecting shoulders that bag
a waist too tight
and a skirt that sags

Then at last, after being in gathers, easements
overcast hems and under the hot iron
I am, snug and snazzy,
in this garment I have made.

This poem first appeared at poetsonline.org. and subsequently appeared in Vogue Patterns Magazine (December 2010/January 2011 issue).
Used here with the author's permission.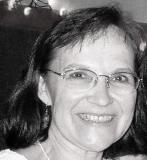 Violet Nesdoly grew up on a farm in Saskatchewan, the oldest of nine children. She learned early the pleasure of immersing herself in the words of others--a perfect way to avoid the noise and big-sister responsibilities of a large family. That soon morphed into a desire to try her hand at writing, resulting in publication, "way back when," Violet says, in the Western Producerís Young Co-Operatorís page. She came back to writing in general and poetry in particular about twelve years ago and has since had poetry published in various print and online publications including Capperís, The Prairie Messenger, Good Times, Vogue Patterns, Time of Singing, and others. Violet has also published two books of poems ó Calendar and Family Reunion. She currently lives in Langley, British Columbia, and makes a practice of never leaving home without her camera. Find out more about her at violetnesdoly.com.
†
Eiken:
Really like this, I felt I was sewing with you and loved the textures and shapes your poem brought to mind.
Posted 08/15/2011 05:38 AM
KevinArnold:
The "I am," resonates with the eighth chapter of the John gospel, "Verily, verily, I say unto you, before Abraham was, I am." Bible or no, this is the line that makes this poem for me, "I am, snug and snazzy. Truly a 'payoff' line.
Posted 08/13/2011 08:39 AM