The poplars in the fields of France
Are golden ladies come to dance;
But yet to see them there is none
But I and the September sun.

The girl who in their shadow sits
Can only see the sock she knits;
Her dog is watching all the day
That not a cow shall go astray.

The leisurely contented cows
Can only see the earth they browse;
Their piebald bodies through the grass
With busy, munching noses pass.

Alone the sun and I behold
Processions crowned with shining gold —
The poplars in the fields of France,
Like glorious ladies come to dance.

This poem is in the public domain.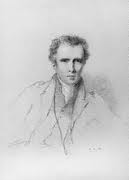 Barry Cornwall (1787 - 1874) was a pseudonym for Bryan Waller Procter, an English writer whose plays, songs, and poems were quite popular during his lifetime. Though his professional career was actually law, he was widely known and regarded for his writing and included several noted Victorian authors in his circle of friends. William Thackeray's novel, Vanity Fair is, in fact, dedicated to Mr. Procter.
There are no comments for this poem yet.