Out of the night that covers me,
Black as the Pit from pole to pole,
I thank whatever gods may be
For my unconquerable soul.

In the fell clutch of circumstance
I have not winced nor cried aloud,
Under the bludgeonings of chance
My head is bloody, but unbowed.

Beyond this place of wrath and tears
Looms but the horror of the shade,
And yet the menace of the years
Finds, and shall find me, unafraid.

It matters not how strait the gate,
How charged with punishments the scroll,
I am the master of my fate:
I am the captain of my soul.


This poem is in the public domain.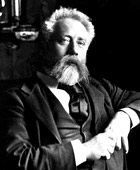 William Ernest Henley (1849 - 1903) was an English editor, poet, and playwright. Diagnosed as a child with tuberculosis of the bone, the disease plagued him throughout his life and caused the amputation of a leg when he was not yet twenty. A big, burly man with a gregarious disposition and a keen eye for literary talent, William was well liked and much admired for his own body of work. One of his closest friends was Robert Louis Stevenson, who used William as the inspiration for his Treasure Island character, Long John Silver. This poem, in turn, has inspired thousands around the world.
dianapoet:
Inspiring! Especially the last line
Posted 09/29/2011 09:49 PM
KevinArnold:
The cleaving of one's essence from one's circumstance invokes such power.
Posted 09/29/2011 09:45 AM
nancy scott:
Given the state of affairs in America today that message resonates. We are on a wild ride in every which direction and it takes commitment and stamina like seldom before to hang on.
Posted 09/29/2011 07:30 AM