the leaves have given up
their struggle to be green, and have settled
for the relief of red, yellow, and orange.
They have abandoned
all possible winter hangouts,
having been enticed, perhaps,
by the same devious breeze
who previously sold that gaggle of geese
on a timeshare resort, somewhere
far to the south from here.
†
© by David Clowers.
Used with the authorís permission.
†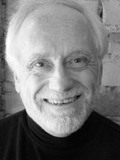 †
An English professor who became a lawyer, David Clowers now serves two masters, actively practicing law while teaching poetry and reading theatre classes in a Learning in Retirement program. Until last year, David lived on thirty acres of woods in Door County, Wisconsin, in a small, self-built cabin, without electricity or running water; he lasted three times as long as Thoreau. Now comfortably ensconced in a condo on the shores of Sturgeon Bay, David tries to write every day. His poetry collection, Shedding My Three Piece Birthday Suit, is available from Birchwinds Press, Box 13, Egg Harbor, Wisconsin.
gwf13@dcwis.com:
Dahvid: This has always been one of my favorites from you. So glad we live in a 'seasons' home here in Door! Ger
Posted 10/23/2011 06:11 PM
jthep:
Ah, David, The leaves will be covered by a winter snow to disintegrate next spring in time to be replaced
Posted 10/16/2011 03:08 PM
DorcasX:
I like the descriptiveness. Thanks.
Posted 10/14/2011 08:04 PM
George Wentz:
David, as one of your students it is always a privilege to read one of your poems. They are thoughtful, often sprinkled with humor, and draw the reader to a higher level of perfection. This poem is a prime example. Keep up the good work.
Posted 10/14/2011 05:47 PM
Glen Sorestad:
I love the opening of this poem and the lines that follow just keep adding to the pleasure. Good job, David.
Posted 10/14/2011 09:57 AM
Jo:
A poet from my favorite part of WI, and your poem is delightful. I especially like the leaves abandoning all possible winter hangouts, geese with a timeshare...Really like this poem, David.
Posted 10/14/2011 09:49 AM
Anjie:
Geese and a timeshare? Now that's a good one. Pleasantly surprised, Anjie Kokan
Posted 10/14/2011 09:03 AM
mimi:
love this poem, David! Sharon Auberle
Posted 10/14/2011 07:41 AM