She is one of the women
who travels daily from her township
Singing in the back of a pick-up truck
with a chorus of others
Come to clean the rooms
in my B & B bordering Kruger Park

She sees me walking a path
parallel to the Crocodile River
I see her running toward me
Watch her fall to her knees before me
Close the lowest five button holes
that fashion the front of my
ankle-length straight skirt

She says something in Swati
Looks up at me as a lilac-blue blossom
drops from a jacaranda tree
And under the kindness of shade
she pats my calves

I canít interpret the words
but I can read her body language
There my dear
Iíve closed the open invitation
The accident that wrote itself
across your womanhood
I know this because here
no woman would walk
aware of bare thighs winking
between the weave of khaki

I help her up
Hold her hardened hands
Thank her by returning
the sunshine of her smile
And waddle like a knobbellied duck
back to my room where I segregate
the unbefitting skirt to a suitcase
From Stroking Davidís Leg (Foothills Publishing, 2009).
Used here with the authorís permission.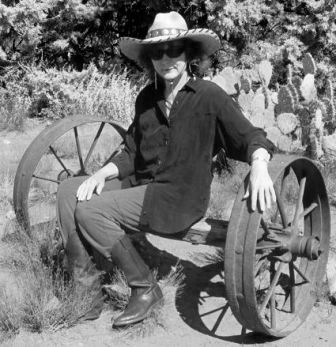 Ellaraine Lockie lives in Sunnyvale, CA, where she is a full-time writer of poetry, nonfiction books and essays; a freelance writing workshop instructor; poetry editor for the lifestyle magazine, Lilipoh; and a frequent judge of literary contests. Her poetry is widely published and awarded and she is the author of nine chapbooks--the most recent being Love in the Time of Electronics, published by Pudding House and a finalist in their 2009 chapbook competition. Her chapbook, Stroking David's Leg, received the Best Individual Collection Award for 2010 from Purple Patch magazine in England and Red for the Funeral, won the 2010 San Gabriel Poetry Festival Chapbook Contest. Ellaraine is also a professional papermaker who has worked with community projects in that capacity in South Africa and for various U. S. businesses. A video featuring Ellaraine's poetry, handmade papers, and handbound books can be seen at http://www.youtube.com/watch?v=rqst6qBIpVU.

KevinArnold:
I like the slightly-unsympathetic view of the "I" in this poem, the admittance of the poet's self-implication.
Posted 10/16/2011 09:19 PM
Mary Lou:
Ellaraine, this poem has everything. A poem that makes me want to write my own version starring the lady who works at my house. I've had a few wobbles myself.
Posted 10/15/2011 02:32 PM
mimi:
the kindness of it brought tears to my eyes, and then the last line, a laugh! Love the poem, Ellaraine... Sharon Auberle
Posted 10/15/2011 09:12 AM
Ralph Murre:
Amazing good work, Ellaraine. Good to see it here.
Posted 10/15/2011 09:10 AM
Gail Goepfert:
The story . . . I love the story here. It is as if I am there!
Posted 10/15/2011 07:53 AM
Katrina:
I love this - especially the body language! I'd love to read a non-verbal conversation in the same voice, addressing another being in wordless dialogue. (If you can interpret that, you're doing well.)
Posted 10/15/2011 07:49 AM
DorcasX:
Very interesting description. Thanks.
Posted 10/15/2011 07:14 AM