It was
the only mountain
in central Florida. White
sand rising like a vertical, pristine
beach from dull pastures dotted with scraggy
scrub palms, languid cows, moss-draped oaks. Like a mecca,
Sand Mountain beckoned to church groups and children and flatlander
families to come frolic at its foot and, oh, how they came—by the carfuls, the
busloads, giddy with good times, climbing and laughing and climbing and sliding and
climbing and racing and climbing and skiing and climbing and crashing and climbing and climbing
again and again until one day there came a swift whisper: "More phosphate! More profit!" and the good times
and the mountain disappeared. Generations later, the sweet memories are as pure as the sand and its source were not.

© by Jayne Jaudon Ferrer.
Used with the author's permission.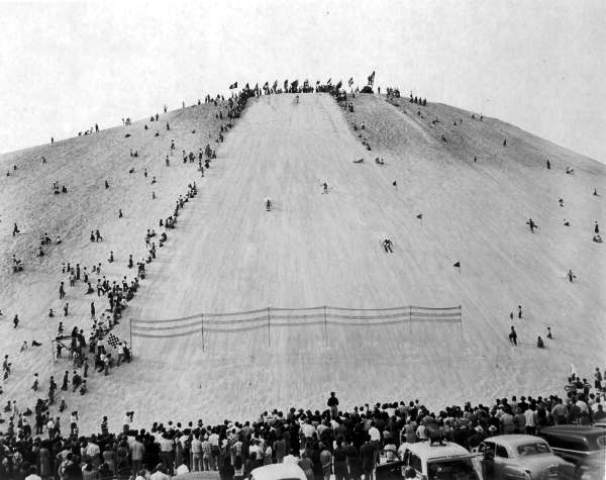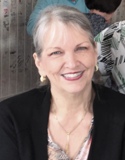 Jayne Jaudon Ferrer is the author of five books of poetry and a nonfiction book about games. Her latest publication is Poems to Lift You Up and Make You Smile, an anthology harvested from the many wonderful poems featured on YourDailyPoem.com, a website she created 12 years ago. Jayne speaks frequently at churches, schools, and writing-related events and her work has appeared in hundreds of publications. When not writing or reading, she enjoys music, old movies, gardening, hiking, and good conversation. A native Floridian, Jayne has lived in Greenville, South Carolina, for the past 27 years. Learn more about her at www.jaynejaudonferrer.com.
Lori Levy:
Great shape poem, Jayne! I agree with all the other comments.
Posted 10/29/2021 12:42 PM
MLove:
Delightful! Wonderful words and shape! But so sad. Still, thanks for sharing - I never knew about Sand Mountain. The memory and the poem are a treasure.
Posted 10/29/2021 11:46 AM
Wilda Morris:
Beautiful and sad.
Posted 10/29/2021 11:06 AM
wordartdjc:
Such an interesting poem shaped to perfection. How I would have loved to join that merry group on the slope...You have created a lovely image for us.
Posted 10/29/2021 10:30 AM
Shoshauna Shy:
Love getting to read *your* poems, Jayne! The shaping sure worked here!
Posted 10/29/2021 09:42 AM
Michael:
Wonderful shape poem, Jayne, and your language and cadence; totally superb! Congratulations on a fine piece of work.
Posted 10/29/2021 08:55 AM
Gilbert Allen:
Yes, that final sentence really resonates with the poem's title.
Posted 10/29/2021 08:36 AM
Larry Schug:
I think , for me, the lesson here is that the works of man are ephemeral. I wonder what was seen in the view from the top. The final sentence leaves much food for thought
Posted 10/29/2021 07:40 AM
Sharon Waller Knutson:
Jayne I loved this visual poem full of bold description and alliteration in the shape of a mountain. Favorite line: White sand rising like a vertical, pristine beach from dull pastures dotted with scraggy scrub palms, languid cows, moss-draped oak
Posted 10/29/2021 06:27 AM